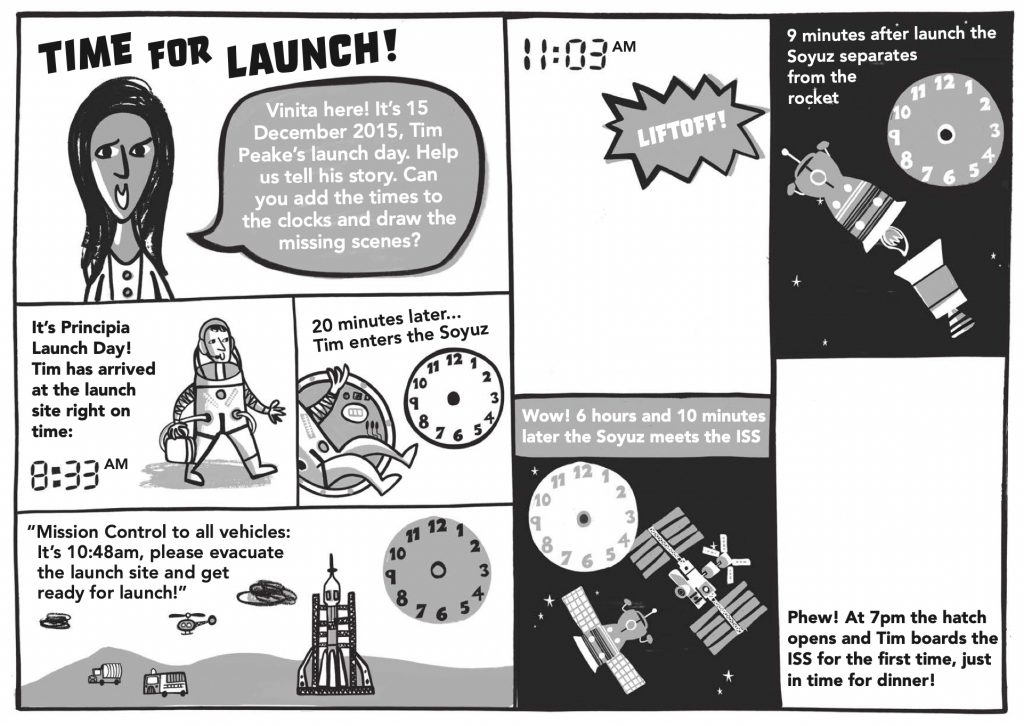 This teaching resource has been submitted by Kristen Harrison at Discovery Diaries HQ.
Discipline
STEM (Science, Technology, Engineering, Maths)
Learning Level
Elementary/Primary School (Age 5-11)
Short Overview
Learn how to tell the time with a make-your-own comic strip! In this creative activity, children will follow the story of an astronaut launching into space while they learn about telling the time. They will hone their visual skills by working out the narrative of the story and develop numeracy and STEM-learning skills at the same time. This lesson works well as a challenge task for children to make links between analogue and digital time. It also introduces the concept of duration, as children have to calculate the new time using the clues given. The timings used are those from ESA astronaut Tim Peake's 2016 launch and will help children develop an understanding of how long the different stages of a launch take.
This worksheet features real space expert Vinita Marwaha Madill. Find out more about Vinita here: https://discoverydiaries.org/vinita-marwaha-madill-space-operations-engineer/ and inspire your children to imagine themselves in STEM careers.
Learning Outcomes
By the end of this lesson the student/s will be able to:
– Make a link between analogue and digital time
– Understand the concept of duration
– Recognise visual indications of time
– Understand the principles of analogue and digital time
Resources Required
Activity sheet (link below)
Analogue clocks (optional)
Downloads/Attachments
Download the Activity Sheet (PDF)
Download the Teaching Notes (PDF)
Download the Solution to Activity 
Useful Links
Visit the Discovery Diaries space-themed STEAM education website for primary/elementary age.